Greetings from "Exigent Consultants" on behalf of AMA School of Medicine, Philippines.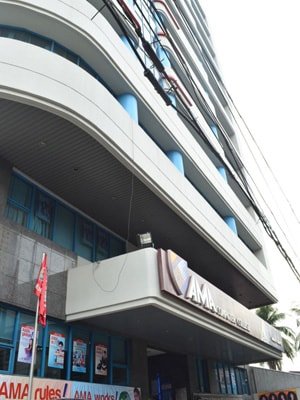 AMA School of Medicine, Philippines is a leading University in Manila the Capital of the Philippines.
Located in MAKATI, Metro Manila Central Business Dist. Area
Affiliated to 3 Hospitals in Manila (Quirino, AFP & Pasay General Hospital)
Affiliated to Armed Forces Medical Centre, BEST for training in Philippine
It offers a 5 year BS-MD degree which is equal to the MBBS Degree in India. Over 2,000+ hospital beds
WHO Listed & MCI approved
Hostel (apartments) & Indian catering / mess arranged f
2 Kms from Indian Embassy in Makati & 11 Kms from Manila Airport
Philippines
AMA School of Medicine is one of the Leading Medical colleges in the Philippines. It is Located in Makati city in Manila which is the financial center of the Philippines; Makati city has the highest concentration of multinational and local corporations in the country. Major banks, corporations, department stores as well as foreign embassies are based in Makati. Makati is also known for being a major cultural and entertainment hub in Metro Manila.
Education STANDARD is Excellent.
USA / American pattern of Education is followed.
English is the Official Language of the Philippines.
Reasonable Fees.
Easily accessible with flights from all over the world.
Good Patient flow – great for clinical training.
Continental food available.
Education gateway to countries like USA & UK.
Philippines has educated & sent 2nd largest number of foreign Doctors to USA.
Over 20,000 foreign students are enrolled in Philippines.
AMA School of Medicine is part of the AMA Education System. Dr. Amable R. Aguiluz V, is the founder of the Group. He has been an Ambassador of the Philippines to the Gulf Countries. He named college after the initials of his father's name, Amable Mendoza Aguiluz V, Sr.
Advantages of Philippines
A former colony of USA. Follows US pattern.
English is Official Language like India. All citizens speak English – No need to learn any foreign Language!!
Excellent Teachers – some of who are educated in USA – superior Quality.
Rotating Internship / Clerkship in USA possible.
Philippines is the highest provider of nurses & Doctors to the USA.
Medical Graduates are eligible to apply for:
ECFMG certification and USMLE examinations for working in the USA.
Canadian & Australia Medical Council licensing and State registration exams.
UK PLAB & Ireland registration exams.
Screening Test conducted by National Board of Examinations Delhi for Registration with MCI in India.
Degree is recognized by:
California Board of Medicine, CFGNS , USA , Govt. of India – MCI UK, Singapore, Canada, Australia, Gulf Countries etc. CHED – Govt. of Philippines